TARIS Weighing, Dosing & Dissolving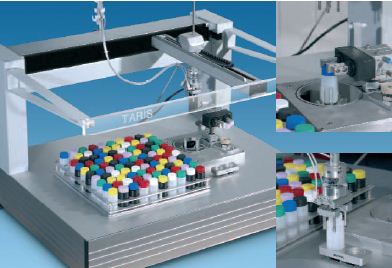 Taris is a low cost system for taring and weighing of vials with the option of decapping and capping. The system is designed for batches of 100 to 200 vials per loading. The processing time is about 1 minute per vial (including screwing the caps off and on again). The system can run completely unattended. It produces a file with the weights and a log file of the complete run. An optional barcode reader can check the barcode while the vials are decapped and capped.
Capping and Decapping of vials
Taring and weighing vials with or without caps
Can handle various vial sizes
Barcode reading optional
Weight list as Excel-File

TraySy & TraySy Plus xxx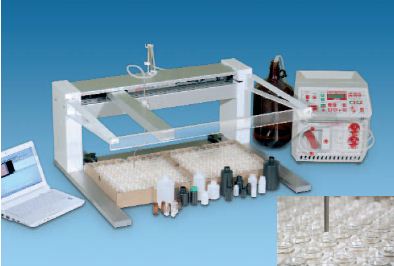 TraySy "X" a newly developed X-Y distributor and the proven peristaltic dispenser Perifill® IQ 3000 form a unique automatic filling system for small and medium size batches. TraySy "X" is a fast, computer controlled precision X,Y-system with a stainless steel workbench. Vials, ampoules, tubes in racks or packing trays can be placed on the workbench and automatically filled. It takes less than 2 seconds to fill a 4ml vial. The systems are used for sterile and non-sterile serial dispensing in drug dispensories, bacteriology labs, pharmaceutical and diagnostic batch production.
Two speed recycling to reservoir when not dispensing
Stirring for slurries and suspensions
Accurate temperature control for hot or cold liquids
Fast or slow dispensing
Full control for viscous materials
Programmable slow start and slow finish - no splashing
Stores 9 user defined programmes
Volume range 0.1 ml to 1000 ml
Dispense and calibration setting retained in memory when switched off
Easy calibration
Easy to clean